Yes, it's that time again. It's time for the wonderful world of standardized testing. All is a buzz in the teacher's lounge. Nope. Not really. This year, I feel more stress coming from my little scholars than I do my colleagues. My kids seem more worked up than ever this year.  Could it be the endless amount of benchmarks they had to endure throughout the school year? Could it be the "drill and kill" test prep they may have experienced in some of their classes? The reasons are limitless; feel free to fill in your own blanks.  During this time of year, we certainly may be unwittingly lowering the quality of life for those we mean to nurture.  In some states, children as young as 8 years old face the likelihood of being held back if they fail their state test. I just want to bang my head against a concrete wall when I read stories like this. I am not against accountability; I just want sensible alternatives to high stakes exams.  I have always been a fan of performance or portfolio-based assessments where students showcase direct demonstrations of their learning. This can include projects, individual and group presentations, reports and portfolios of work collected over time. A girl can dream right?
I really feel like a broken record just talking about this issue. How long have teachers and parents been screaming at the top of our lungs that these types of high-stakes exams place unnecessary stress on our kids? Obviously, not long enough because we find ourselves still at this exact same place year after year. To make matters worse, those of us who have done the research know that there is no conclusive, decisive, convincing evidence that these types of exams truly measure what kids actually know and are able to do.
I really don't want to play the blame game; however, high-stakes standardized testing has become a beacon of school reform starting in 2002 with the No Child Left Behind Act to hold schools "accountable." The stakes for these exams were amplified with the Race to the Top funding competition, in which states could win federal education funding by promising to undertake specific reforms — including evaluating teachers by test scores. Many have long argued that culpability for our assessment system lies squarely at the doorsteps of Congress, the U.S. Department of Education, the states, and test publishers and vendors.
However, all of this means nothing to my students who tell me that they are just so tired of it all as we gear up for AZ Merit. Of course, I try my best to help my scholars not stress over AZ Merit. I have always told them that their success is NOT defined by a single test score! A few of my students came to eat lunch with me in my classroom the other day. We started chatting about AZ Merit; I asked them what they thought about the upcoming state test and how it makes them feel. Taking a page from Alaina Adams' playbook (blog), I captured the thoughts and feelings of my students using a WORDLE
Here are the results…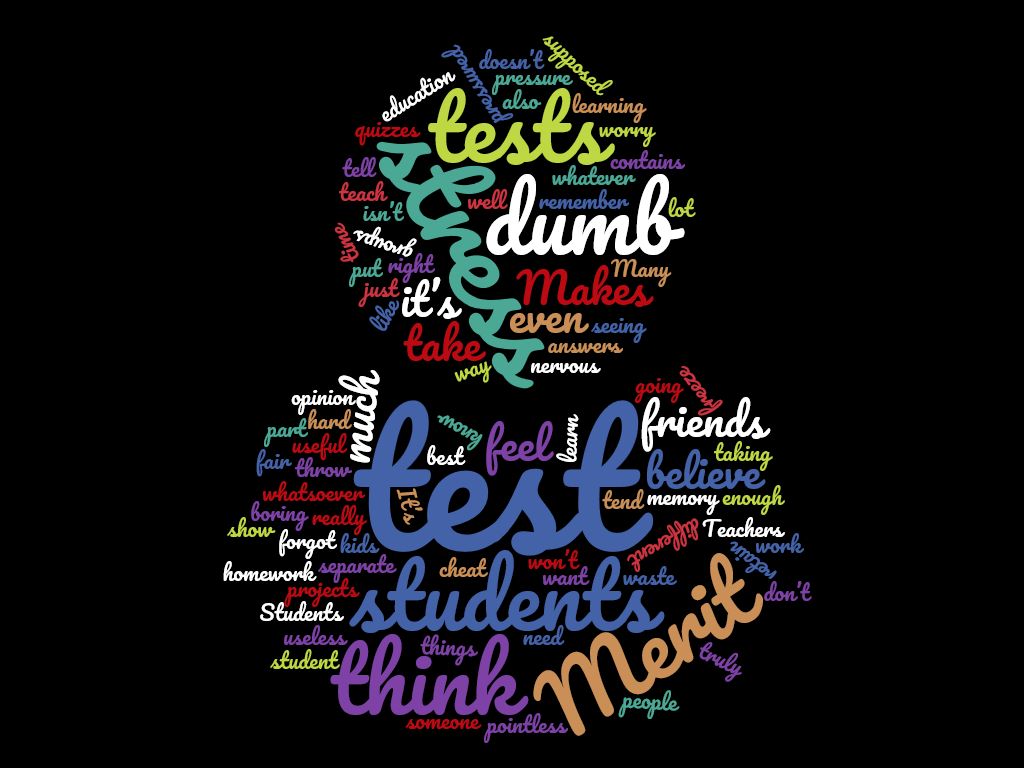 Every day my kids battle with some type of self-doubt and negative image of themselves. When they spoke about the state exam or just testing in general, they saw no path to success. Failure was not seen as an opportunity for growth, but as a label they wear with shame. They said things like, "Miss Jay I suck at all these tests" or "I always fail these tests." It breaks my heart.
I am in no better shape. I must admit, I am always a nervous wreck the day of the state exam. When I proctor the test, I always think about how I have no opportunity to nurture the learning process, no chance to review the highs and lows; my scholars and I cannot break down the exam to engage in thought-provoking discourse, nor can I provide clarification or feedback. Worse yet, when my students do experience frustration, uncertainty or ask for assistance, I am strictly forbidden from providing any support once the test window opens. As teachers, do you not feel like a robot in the room?
Nevertheless, as educators, we must remain steadfast on this issue no matter how much they ignore us. while at the same time, protecting our little ones from becoming collateral damage. We also know that if we become overly obsessed with test scores, it will most definitely trickle down to our kids. Think about all the troubling stories you have heard around the country of teachers going to the extreme (some even participating in illegal activities) all to ensure high test scores on these exams. NEA published an interesting article that provided coping strategies for teachers.  It's entitled Fighting the Stress of Teaching to the Test: Educators Cope with Test Stress in Unique Ways.  The article also highlights teacher salaries and test scores. The worse thing we ever did in education is link student performance to teacher salaries; this leaves teachers, and rightfully so, highly stressed over job security and wondering about their uncertain future in education. What a great way to retain and recruit quality teachers!
In spite of all of this, we must continue to be an advocate for our students; we must remain the voice of reason on behalf of our children. As a teacher, I can't tell you how heart-wrenching it is to watch my kids experience high levels of stress and anxiety during this time of year. Our children have become the "crash test dummies" of testing. As parents and educators, we have to be the first responders standing guard on the front lines, fighting to protect our students from the onslaught of excessive testing. It is up to all of us to do what we can to shield our little ones from the damaging effects of over-testing. We must also remind our students that we care deeply about who they are, not how high they score on a test, and that a person's capacity to reach his or her dreams or goals can never be measured using a bubble sheet.