The end is almost near and what a year it has been! As teachers, we graded thousands of assignments; we taught our scholars important life lessons and witnessed their friendships blossom; we watched and experienced the beauty and innocence of our scholars interacting with us and their peers. We shared in their victories, their sadness and their breakthroughs, great and small. Of course, as we all reflect on this school year, we cannot forget our historic #RedforEd Movement. Wow! As teachers, we found our collective voice, and that is a powerful thing. Our long-simmering frustrations with education funding finally boiled over into state-wide action. We became a political force to be reckoned with. As I reflect on the events of that week, it's going to be imperative that we continue this work all the way through the fall elections when the issue of still-underfunded schools will definitely be front and center.
There were definitely many ups and downs for me this year, but before I allow myself to have a pity party, I am reminded of a Bible verse that says, "more than that, we rejoice in our sufferings, knowing that suffering produces endurance, and endurance produces character, and character produces hope, and hope does not put us to shame…" This verse also makes me think of the trials and tribulations my young scholars experienced as well. All the educational achievements my young ones made this year are great, but the caring, nurturing environment that was my classroom is what promotes true life-changing development, life-long learners, and thoughtful citizens.
Like myself, so many of my scholars faced quite a roller coaster ride of a school year; more things happen in my kids' lives than they can even comprehend. This is why, at the end of every school year, I choose to reflect with my scholars. I share with my scholars that even though I was their teacher, they actually taught me many life lessons and made me a better teacher.  This exercise in reflection is so powerful. Collaborative reflection with my scholars feeds into this idea of educating the whole child; I hope to reach beyond content and grasp the heart of my little ones, and model for them how to work through life's challenges.
During these exercises, my scholars often share what they learned in terms of their own self-awareness and inner character. This type of introspection is beneficial for all ages. Each year I look back and wonder, "Was it worth it? Did I do enough?" With hindsight and our critical minds, my scholars and I reflect on how far we have come, how much we have learned from each other and how much we have grown.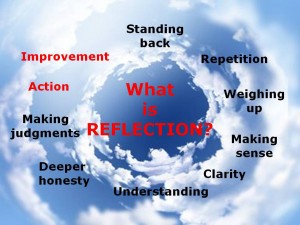 Typically, as educators, there are three basic questions that we all reflect on during this time of year: What worked? What did not go so well and what will be our focus area for next year? These are great questions, but this year, I wanted to do something a little different. I am starting to now think of teacher reflection as it relates to transformation–of individuals and systems. I believe that in order to participate in meaningful and impactful reflection with my scholars, I must first attend to my own personal transformation and growth. A turning point for me this year is when things got so crazy on my campus and within my school district, that I actually contemplated walking away from it all. I knew in my heart that wasn't the answer. I just felt helpless, powerless and I was negatively reacting to the anger I felt over the situation. As the school year progressed, however, I began to consciously work on transforming my own personal well-being.  I thought to myself–I will not spend the entire school year dwelling on the negative and the extreme chaos that came out of it.
Instead, I am now thinking about how I will direct my energy and reflection on those things that caused a transformation in my life. There is a saying that goes "what doesn't kill you, makes you stronger." I definitely experienced that lesson this school year. This strategy of focusing on my own personal growth through my trials is critical to building my emotional resilience. One of the only things in life that I have control over is how I tell my story; for this end of year reflection, I choose to focus on interpreting my experiences and gathering deeper meaning from it. I choose to use this time to reflect on the events in my life that revealed professional learning, growth, and empowerment.
Now that the school year is ending, I refuse to allow myself to dwell on cynicism.  What would it accomplish? We all know negativity is contagious and it only breeds more hostility.  Dr. Martin Luther King, Jr. once said, "Darkness cannot drive out darkness; only light can do that. Hate cannot drive out hate; only love can do that."
I will remember these words as I meditate on the work I did this year that was valued, appreciated and welcomed. I will reflect on how I can effectively work towards a healthy, personal transformation through the hardships I experienced this year.
To say that life is complicated is an understatement. However, how I choose to respond to life's pressures, doesn't have to be as difficult.  We design our lives, in part, by how we respond to life's vagaries. Especially when we experience change, and perhaps change that we didn't initiate, or in my case, that change that initially didn't feel so good. This year, for my end-of-year reflection, I really want to focus on how I responded to change and what kind of educator I want to be moving forward. I want to unlock all obstacles around these thoughts and just let my mind wander anywhere and everywhere — the expansiveness for real reflection is so freeing.
I am grateful for the challenges I experienced this school year; I know it has made me a better, stronger educator and student advocate.
What type of reflection exercise will you be doing? Share your ideas below on how you have made your personal reflection more meaningful and impactful.