Joy:
Noun

1. The emotion of great delight or happiness caused by something exceptionally good or satisfying.

2. A source or cause of keen pleasure or delight; something or someone greatly valued or appreciated.

3. The expression or display of glad feelings

4. A state of happiness.
One of my primary goals as a general music teacher is for my students to leave my classroom flush with the joy of creating music. Teaching the literacy concepts and perseverance needed to be a musician can be very difficult if they don't feel joy and excitement.
I used to think of joy as simply having fun: A feeling that creates happiness. Definition one of Joy hits that objective perfectly. As I grew in my pedagogy, I realized that simply "having fun" was not producing the literacy level I knew my students could achieve. That first definition is more of a consumer experience. Students experience something satisfying, and they walk away feeling joyful. I showed up, took in, and walked away with something "nice."
This satisfied me for a while, but I started realizing that there could and should be more to what I was offering students. This realization happened at about the same time that I decided to pursue National Board Certification. I was feeling burned out and bored with teaching. What I was doing was OK, but it wasn't great. I wanted to offer my students something great. I wanted to be excited about going to school every day. I wanted a feeling and purpose that lasted past the disruptions and frustrations of everyday life.
As I worked through the National Board Certification process, I took a deep and reflective look at why I do what I do in my classroom. Why it is appropriate for these students at this time. The goals I was setting and why they were relevant. I also looked at what my students needed and how I could prepare my lessons to meet those needs.
I started to grasp definition number two: Something or someone greatly valued or appreciated. This definition of joy reaches beyond the consumer experience and dives into something with deep roots that transcend the daily ups and downs.
This past summer, during Teacher Leadership Institute, Gholdy Muhammad talked about cultivating Genius and Joy in our classrooms. She shared her "joy questions" as a guide for producing them in our lessons.*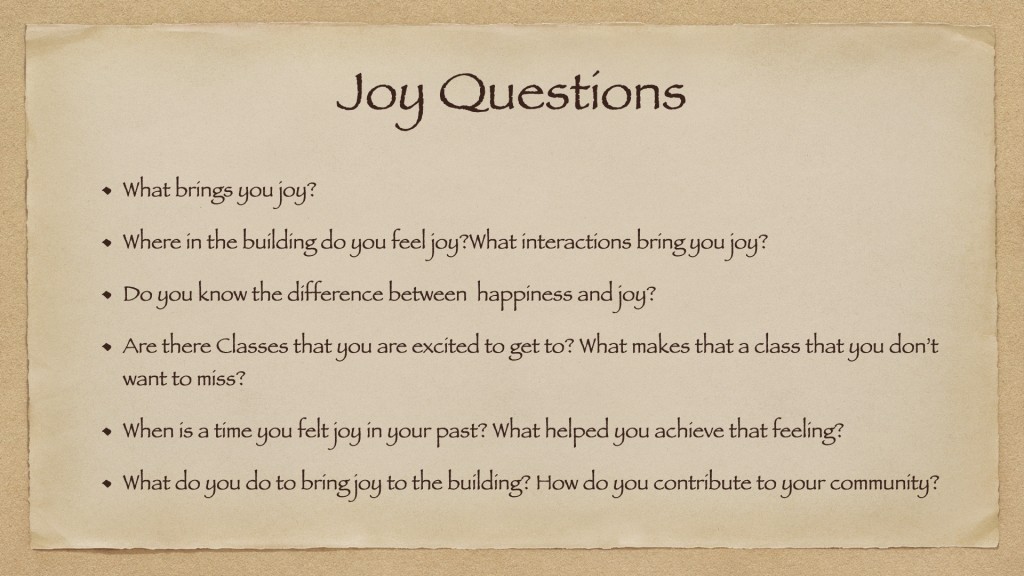 I discovered that I was using this formula in a loose context. Goldy's discussion during the conference guided me to look at this from a student perspective. What am I doing to bring joy to my students? What attainable challenges am I putting in their paths? How am I celebrating their accomplishments? Is my class a place they are excited to get to, or do they want to avoid it? When have my students felt joy? What facilitated that feeling? How can I contribute to students and colleagues experiencing joy?
Heavy questions for sure.
I have found that teaching during a global pandemic makes the need for joyful experiences even more important. Everyone in my building (adults and students) needs to have a source of great value and appreciation that goes beyond the daily ups and downs.
So what have I done? I have made my lessons even more rigorous than in previous years. I have changed the pace and sequence of my routines. I have made bold connections to previous and future learning for my students.
I have seen students embrace that challenge. I have watched them struggle through the perseverance of learning an instrument and walk away with a skill they didn't know they could attain. I have watched them play singing games on the playground and teach them to other students and adults. I have seen the music literacy level of my students INCREASE during this stressful and traumatic time.
How do you answer Goldy's joy questions?
What are you doing to cultivate joy in yourself?
We must cultivate within ourselves what we wish to see in our students.
Be joyful!
*Gholdy Muhammad Teacher Leadership Institute, June 2021, Key Note Speaker