Ah, teacher appreciation week. I look forward to the handmade cards and homemade goodies, and if I'm really lucky, school supplies or a Starbucks gift card. But here's what I really want for Teacher Appreciation Week. Stop undermining the teaching profession and start supporting it.
Our education world is in crisis and we can't trust false reforms to save us. Our state has 2,165 teaching positions currently open and an additional 4,386 positions filled by long-term subs or uncertified teachers. 22% of teachers hired from 2013 to 2015 were not teaching in AZ after one year. 50% of teachers in Arizona leave the profession before their 6th year of teaching.
So, should we loosen the requirements for teacher certification?
This is the false reform that some Arizona policymakers think this is the solution. To some, it sounds great – sure, open the floodgates! Anyone with enough content knowledge can teach, right? Wrong. Knowledge of students and the way humans learn, grow, and develop is crucial knowledge to an effective teacher. Content knowledge alone is simply not enough. Deep knowledge of pedagogy is essential.
This is also an extremely short-sighted "solution" for fiscal reasons. The problem we need to solve is retention, not just recruitment. The Alliance for Excellent Education estimates that a single teacher leaving a school costs the district $12,546! We can't afford to keep letting good teacher leave our state and our profession.
Why do half the new teachers in our state leave?
It's not because they had trouble becoming certified. Exiting teachers cite low pay, lack of support and feeling unprepared for life in the classroom. So by loosening teaching certification requirements, not only will it not keep these unprepared teachers in the classroom, it will push out more and more veteran teachers when we find ourselves surrounded by people who don't know how to teach students.
What is the solution to the teacher shortage?
Start at the beginning, like other successful, equitable, and highly performing countries did to improve their country's education. Hello, Finland! They invest in high-quality teacher preparation programs and pay for it. They also give teacher candidates a stipend while they are in pre-service learning experiences, like student teaching, so that no one has to go into debt to teach or to settle for being less prepared for life in the classroom today. That is the way to really remove barriers to becoming certified.
There have been successes at the state level. For years, a North Carolina Teacher Fellows program sent top high school students to state universities for free as they learned to teach and taught courses to help them become teacher leaders. In exchange, candidates pledged to teach for at least four years in North Carolina schools. The result? North Carolina saw thousands of top-of-their-class teachers enter the profession, many in the harder to fill certifications we desperately need in Arizona, like math and science. Another benefit? Many of the North Carolina Teaching Fellows were male and minority teachers, who are also direly needed in our state. But the most impressive part of the study involves retention. A follow-up study years later showed that more than 75% of the Fellows were still in the profession, and many of the rest were in administration and leadership positions. Oh, the possibilities! Imagine a future where top-achieving, highly qualified individuals pledge to teach in Arizona schools when they graduate debt-free from Arizona's universities.
Won't that be expensive?
I don't pretend to have the answer, but I know that we need to reprioritize the way we fund education in our state. I know that if we start saving $12,546 per teacher by keeping teachers in their schools, that would add up quickly. We need to advocate for the needs of our profession to best help our students. We must advocate for the looming Prop 301 renewal in Arizona and Title II funding on the federal side. Title II funding pays for professional development and learning and its already been cut by 13% ($294 million). The executive branch would like to eliminate Title II entirely next year.
Lessons from Leon
A privilege of being a teacher is mentoring the next generation of teachers and it has been my honor to have an intern this semester, Leon, a veteran with 30 years of military service. Leon is working on his second master's degree, this time in special education to become a certified teacher because he wants to give back to our country out of uniform. He sees the ideals of the Marine Corps and Navy, such as honor, integrity, courage, and commitment, embodied in the life of a teacher. Leon is fabulous with my classes of fifth graders and they adore him. Here's the crushing part: when Leon graduates at the end of the year, he will not teach in Arizona or anywhere in the United States. He says that he won't put up with feeling undervalued. Instead, he will teach in Thailand, where education is valued and teachers are respected. I can tell you from watching Leon teach – this is our loss, Arizona.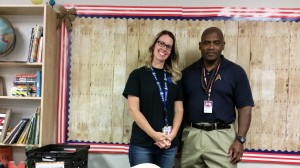 What do you want for Teacher Appreciation Week, Mrs. Maloney?
Research shows that what will make the most difference in a child's education is the quality of their teacher. Start appreciating the human capital being squandered in Arizona and stop undermining my profession this Teacher Appreciation Week. Invest in us and stop making my profession weak.