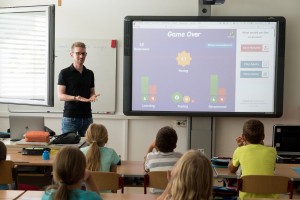 I'm sure this is a question many teachers across the globe are now pondering, and while I don't know that I have figured out the answer to this question, here are a few tips and tricks I have gathered over the last few weeks from others' trial and error and observation.
Take care of yourself. This has to be number one. The saying, "You can't pour from an empty cup," has never applied so much as it does now. You cannot provide support to others if you are stressed, angry, and upset. So, my advice – while things have to get done, if you are feeling overwhelmed, take a moment to go for a quick walk, listen to a guided meditation, or do a yoga sun salutation 3x.
Here is how you do a Sun Salutation:
Mountain pose, standing at the top of your mat, arms down, palms facing forward, and feet shoulder-width apart.
Reach your hands up overhead, turning your palms to face each other. Do a slight backbend, come back to center, swan dive your arms as you hinge at the hips moving forward toward the floor.
Bend your knees slightly and come up to a half lift, where you place your hands on your shins. Lean down, plant your hands on the ground, shoulder-width apart, and step back into plank.
Stay here for a second, as you exhale, shift forward and lower down into cobra. It should be chin, chest and then your belly touching the ground. Push up and back into a downward dog.
This simple warm-up can be done to get you relaxed and re-focused. Don't forget to breathe.
Plan ahead. If you are going to use a new technique, a new technology or a new strategy like anything else you do, practice. You do not want to try and use new technology while you have students sitting in front of you. Several Youtube videos can help walk you through Google Hangout, Google Meets, and Zoom. Or call a friend and practice, so you can problem-solve any potential concerns or challenges you think you might have.
Plan for ½ the content you think you would normally do. A half-hour or hour of instruction online is different than in-person teaching. Do you want to think through how will you engage learners? What activities will you do that will help students to keep interested in the content? For example, if you are doing a lesson on angles, you might want to have students find angles in their house, take pictures and then share with you and others.
Organize the information you want to present in an easy way for you to access when you are online. You do not want to have down or lag time. So, make sure your handouts, visuals, and websites are easy to access and don't take a long time to share.
While this is not an easy time to be in the teaching field, and there are a lot of things that are up in the air, planning, asking questions, and taking care of your mental health can help you be successful in this world of unknowns.