There are over 3.6 million teachers in the United States. Many of these teachers are quiet giants. They are creating innovative lessons and having a positive impact on their students every day. These teachers are different makers in their school and community. They understand the value of what they teach, yet many have limited involvement in the education community as a whole.
For many, involvement and connecting comes at a cost. Maybe it takes time away from family and other commitments. The challenge is: How do we reach these teachers, and what are some simple ways we can get these teachers more connected and more involved? I don't have a perfect answer, but I can share how I got involved and the impact it has had on my students, in hopes that it sparks thought in others.
First of all, why is it important to get connected? What are some examples of ways we can connect?
Collegiality: It is so nice to have a group of like-minded individuals to collaborate with. Join a cohort, state, or national organization in your field. There are usually opportunities to join groups and clubs within your school or district. If not, you can look beyond. I joined both our state and national organizations in my field: Arizona Health and Physical Education (AZHPE) and Society of Health and Physical Education (SHAPE America). After volunteering for a year on the "Advocacy Committee" for AZHPE, I was then promoted to Advocacy Chair. This allowed me to make a difference in many ways, including collaborating with others in the community. Another connection I made through my district was finding teachers who have gone through the National Board Certification process. This has improved my teaching immensely. Once again, this is because I reached out and tried to connect with others. Now, I have an impetus to reach out to other teachers who I feel would be a good fit.
Access to new, free resources: Because of the collaboration with teachers, especially on social media, I now have access to so many resources that I never new excited before. I was previously creating all the resources myself. Because of these new connections, I am now working smarter, not harder. Not only am I getting resources, I am also able to share some that I have created, helping give back to those that have helped me.
Stay current: It is important to stay current on best practices and latest research. Doing the same lesson for 30 years isn't the answer. By collaborating with others, especially your state or national organization, will help you stay current, which will ultimately impact your students.
Connect with the community: There are so many resources available to many teachers in their community. The f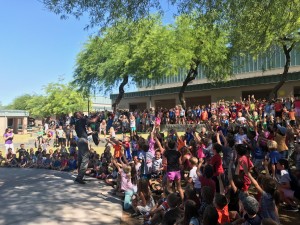 irst step is figuring out a student need, and researching what options might be available in your community. The worst thing that can happen is they say "No." To help with student motivation, I made some calls around the community to see who might be willing to come teach our kids for a day. Most of them said yes, including a Phoenix Suns' basketball player, a world champion martial artist, and a cup-stacking expert. All of these days were memorable for the students.
I also host "Western Day," which is a celebration in conjunction with Parada Del Sol, a community festival that provides health care and resources that benefit the underserved. I teach students in each grade a culturally enriching dance that they perform for families and community members that day. When students interact with our diverse community, they see different perspectives and learn to appreciate what they have. This event reinforces how valuable community is both as a resource and a bridge for family involvement. This also helps advocate for our profession and shows that we are learning important concepts like perspective and gratitude that students can take with them beyond elementary school.
Advocate for the profession: As a physical educator, the importance of our field is always being questioned. Having been cut fro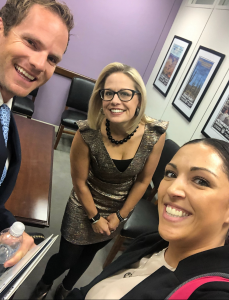 m two different schools due to budget cuts, I understand first hand the need for advocacy. The last couple years, I have collaborated with our SHAPE America for SPEAK Out Day. This is when where teachers across the country head to Capitol Hill to advocate for full funding of the bi-partisan Every Student Succeeds Act (ESSA) to support health and physical education programs in schools and professional development of teachers. I had the opportunity to meet with Senator Kyrsten Sinema as well as other representatives from Arizona and around the country. This year was virtual, but was still a positive experience where we were discussing the importance of quality health and physical education can have on developing the "whole child." Consider what might happen if we never spoke up.
There are many more reasons why educators should get connected. Several people have helped me connect. My question to you is: What can we do to help you get connected? If you already do feel connected, how can you help a colleague, especially one who might be struggling or feeling lonely, get connected?