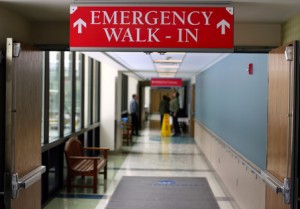 I work in an emergency room. There are no doctors here, no ambulances, and rarely nurses of any kind. I am an educator that finds myself struggling to triage my students' most basic human needs of food, shelter, and safety while being asked to shift their cognitive development to the highest levels. I am an educator working on the front lines of an epidemic in our society.
Our students come to many of us emotionally battered and lacking security. It takes everything we have as professionals and educators to break down the students' walls and gain their trust. The vulnerability that we feel as educators, and that they feel as students, is so real, that it is often overwhelming. We work diligently to implement plans that create opportunities for students struggling with behavior or academics to be and feel successful. Most educators hate being out of the classroom, regardless of the reason, for fear that our students will regress and act out as a result of placing a strange guest in the safe haven we have worked so diligently to create. The privilege of being an educator in today's classroom comes with a heavy responsibility, as we are sometimes our students' only advocate, their only cheerleader, and their only constant. This can be a daunting charge no matter how much time or experience you have under your belt, but it is also the driving force behind what we do and why we work so hard for our students.
Christine Marsh is doing her very best this year to dispel the idea that public schools are failing students. She points to that facts that when students arrive with their basic needs met and some sort of stability in their home life that they flourish in public schools and score in the top percentiles of many different assessments. Educators in many schools know that it often takes a different set of tools to reach our most "at risk" learners. We may need to buy them lunch, bring them clothes or shoes, give them extra hugs and praise, prepare for the meltdowns rather than celebrations that come prior to holidays or extended breaks, we work with counselors and shelters to keep our kids safe, and this is all before we even begin to tackle the rigors of academics.
Being an educator is an incredible opportunity. In challenging times we must rally around our teachers because they are practitioners of excellence in our classrooms. These experts strive to serve all children and should have the support of all educational stakeholders. As were sit on the cusp of an astronomical teacher shortage, we must remind those around us who stands to loose the most if we can not fill our classrooms with the type of educators that today's students so desperately need.