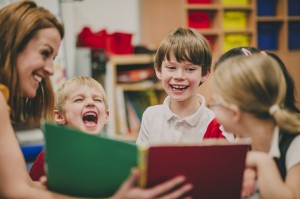 Now that it is 2021, it only seems appropriate that my first blog of the New Year is one of reflection, but as I reflect, I can only come to one conclusion, Educators Rock! Was this year hard? Would I have preferred things to look different, sure? Overnight, I watched educators change their methods, their lessons, their plans, and almost everything they were doing to continue to support students.
I watched the food service staff drive around town on buses delivering not only food but technology. Technology departments found ways to bring WIFI to families, and maintenance staff provided products to mitigate the risk of COVID.  Superintendents across the state engaged in challenging discussions making decisions that they probably never thought they would have to make.
I witnessed behavior techs and paraprofessionals accept new roles and become teachers overnight to support students when there were not enough teachers. I observed, talked to, and saw administrators across the state grapple with difficult decisions, come up with plans, only to start over the next day when something had changed from the night before. What 2020 demonstrated to me time and time again is that educators are some of the strongest human beings I know and I have never been more proud to be a part of this profession.
They fiercely advocated for not only their rights but the rights of students throughout the year. They pushed back, putting themselves on the line when their health and safety was compromised, and they said yes when it was what was best for their students.
Eductors, who had little experience with technology, curriculum writing, online assessments, and various other gadgets, developed strategies to teach their students better. They have continued to push forward to continue that role as an educator.
Educators across the United States continued to develop their skills in various ways to become better educators. Hundreds of thousands have either achieved National Boards or started the process, not allowing 2020 to stop them. They have continued their college education in Bachelor and Master level programs, and they have stepped into classrooms as student teachers and left as teachers.
They engaged in difficult conversations with their colleagues to ensure equitable learning environments for students and stood next to other educators to advocate. Educators have continued, despite 2020, to educate themselves and their students. Educators, despite 2020, have developed learning environments to mitigate a pandemic. They have remained in the classrooms committed to one thing that changes lives, a high-quality education.
As I reflect on 2020, I cannot come to any other conclusion that while 2020 was not easy, our educators are amazing human beings. While this challenge is not wrapped up, and we have a long way to go, I know that Educators will continue to show up for the students. They will continue to navigate tricky waters with professionalism and fierce loyalty to the students whose lives they are a part of. What reflections have you had now that 2020 is over? What amazing things have you seen educators do this year? Please share your stories on this blog with other educators and me so that we can continue to celebrate the hard work of educators across the United States.