I love, love, love the National Board process! I just finished teaching another pre-candidacy course in my district. This course gives teachers the tools, resources, and vocabulary to begin working on the National Board Certification process. The course can be taken through the Arizona K12 Center, and it is also offered by many school districts throughout the state for free.
One reason I love the process so much is the many, many lightbulb moments it inspires:
Watching teachers' faces light up as they read the "What Book" for the first time.
Facilitating passionate discussions on the need for authentic learning communities.
Watching faces turn from confusion to clarity as they digest the component directions.
Helping them map out a plan for the year ahead.
I have now taught this course four times, and each time I lead a poster discussion on the benefits and challenges of National Board. The group always comes up with great insight. For instance they realize that the financial investment is minimal compared to a master's degree and can be recouped in a year from the district stipend.
This time I taught the Pre-Can course, one teacher asked me about my own specific challenges as I went through the process. I usually don't share specific details of my journey because I don't want teachers to feel like my story is the "right" story or that they should compare themselves to me in any way. But this time the question came up, I realized it was a valuable opportunity to share a universal truth about the emotional journey through change.
There are lots of models describing the emotional responses of change. I learned about some of them through my Ed Leadership program at ASU. A really good one is published by Hall & Hord.
I also recently read about another model of change that is helping me reach my current goals.  Here's a great 5-minute video describing it. It's a particularly good model because it describes the rock-bottom feeling when we're hard up against a challenge. They call it the "valley of despair."
When the teacher asked about my challenges, I thought to draw out my own journey through change. The picture I drew is above. You'll notice that on my journey, I started from a place of high confidence and excitement to a crash and burnout real fast.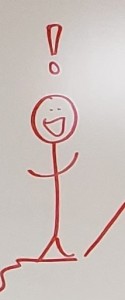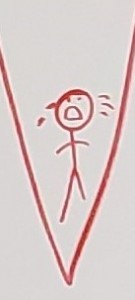 I also happened to be very alone. I was the first person in my district to go through the National Board process and no one in my personal or professional life knew exactly how to help me. I am very happy to report that I did not get stuck there for long because I sought out and found help. I picked up the phone and called the AZK12 Center who got me connected with a coach, Sandy Merz (also a blogger on this site). I felt so much gratitude and relief for the guidance he provided. He pulled me out of the valley of despair and guided me on the rest of my journey.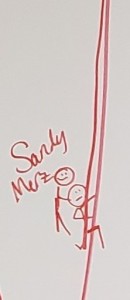 There were still some peaks and valleys, but with his support and encouragement, I was able to achieve National Board Certification that year.
The message I gave to my pre-candidates was this: When (not if) you find yourself hitting rock bottom and you feel like giving up, call me! Don't give up. My message is the same to anyone feeling the pain of change:
Pick up the phone and reach out for support. There are lots of folks who really want to help.
Share with other candidates. Participate in the monthly meetings as if your certification depended on it.
Let your coach help you. Rely on them. Ask them to read your writing (yes, really!). Ask them to watch your video (yes, really!).
The best part of the National Board process is the strength, connection, and sustenance that the National Board Network provides. Reaching out for help not only relieves the immediate pain of the change process, but introduces you to the people and resources that you will come to rely on throughout your career.  Can we do it alone? Maybe. Can we achieve more if we do it together? Most definitely!
Good luck on your National Board journey. You have a network of very dedicated folks just waiting to help you out!