A simple provocation on Twitter: To show that you love teaching, share what your #LoveTeaching theme song would be. Oh yeah, I thought. Challenge accepted.
I can keep this pretty simple. I want my students to leave every single day saying, "That was the best day of my LIFE!" Song choice? The upbeat hit Best Day of My Life by American Authors. (And yes, I'm blasting this song while I'm writing.)

As a preschool teacher, I believe my job is to make sure that every child has a great day. I take this commitment very seriously. If a child is not having a great day—for whatever reason—I always pause to reflect about what I can change to make the child more successful. I never take behavior personally because I know kids are just trying to communicate with me. Believe me, I see some pretty interesting "communication" during the day. My goal is to make every day better—the best day of their life!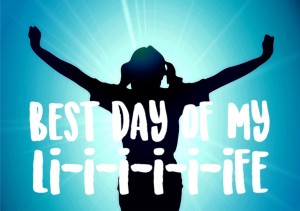 This year, I got the kids in on the idea. We have a moment each day to read our class mission: I will help everyone have a great day. A child comes up to lead the class and we all repeat it together. Then, we each turn to three people and say, "You're gonna have a great day!" It's powerful. The kids beam with love when they hear these encouraging words from teachers and classmates. I think it makes their little souls glow.
I never knew how powerful this little mission could be in a developmental preschool classroom! The idea started this year with zero fanfare on an ordinary day of the week. I was having a lengthy conversation with a bright child in my class who struggles to understand that his classmates have different needs and ideas—and that you can't pinch a child who is first in line just because you want to be first in line. What skill is he missing? I wondered. How can I bridge the gap? I paused for a minute thinking. "Well, you have to help everyone have a great day" I told him. It felt instantly important. I grabbed the computer, asked him to help me find a picture of kids having a great day, and I added the mission to our daily circle time routine. We have been reading our mission and telling each other to have a great day ever since. It's a seemingly small thing, but I have felt the effects are pretty enormous.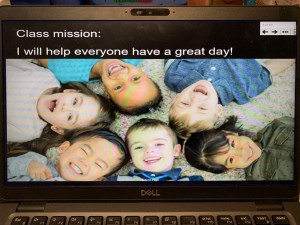 When a child needs the lights off to be calm and focused? We are helping him have a great day. When a child needs an extra minute with a book after everyone else cleans up? We are helping her have a great day. When a child needs a turn with the favorite toy? We are helping him have a great day. When a child needs a hug after she falls down? We are helping her have a great day. When a child needs a communication device to talk to us? We are helping him have a great day. When we are paying attention during circle instead of talking to friends? We are helping everyone have a great day.
See, I have a dream so big and loud. I can jump so high and reach the clouds. These are gonna be the best days of their lives. I'm never gonna look back (on hard days). I'm never gonna give up. Just don't wake me (up from this dream that every child has the right to get what they need). These are gonna be the best days of their lives!
Yesterday, it came around full circle. The bright student who struggles with social skills was recently evaluated and found to be exceptionally gifted. (I kind of figured, but it was nice to have some confirmation!) I've been talking with our gifted specialist about new ideas to challenge him, and she suggested a coding game that I introduced to him yesterday. And while our class was having circle time (reviewing information that he already knows), he got the chance to sit in the back and work on something that really interested him.
A
nd when other kids asked what he was doing back there, I just told them: That's what he needs to have a great day. No one asked me another question. They just nodded their heads with understanding. And everyone got what they needed. Doesn't that make your teacher heart swell with happiness?
All the possibilities. No limits. Just epiphanies. Wo-o-o-o-o-oh. Best days of our lives.
I hope you'll take the time to listen to the song and share how you make every day the best day of your students' lives. And if you are looking for a fun song to share with your students, check out this Kidz Bop version of Best Day of My Life (since the original video by American Authors has some questionable imagery for a school setting). Looking forward to hearing about your #loveteaching theme song. Follow @loveteaching20 on Twitter and participate in the ongoing conversation this week!