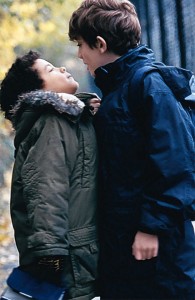 A few years ago, I posted a blog asserting that adults need to consider the example they set as it pertains to bully-like behavior.  I discussed examples of actions that we expect to be curbed by school administration and staff, which are the same behaviors that many children witness from influential adults in their life.  Since that post, this issue certainly has not resolved.  It has only become worse.
Much worse.   
At the time of my post,  I was developing concerns about television and radio entertainment becoming increasingly mean-spirited.  Not that there hasn't always been this sort of programming; it had just never dominated primetime (read: family viewing).  Gossip, insults, underhanded and passive aggressive behavior, childishness, and the platforming of the superficial in the lives of real people, not characters, became commodities like never before.  However, it was still "just entertainment," and those of us who had a guilty pleasure or two could dismiss it as just that.  Certainly, it wasn't behavior we would condone.  It was just TV.  "Those people are idiots, honey.  I just have to watch because I can't believe the lunacy," went a common excuse.  
But somewhere along the way, we started valuing that behavior and paying for it, no, honoring it, with our support and votes.  How is this topic related to education? As of now, 49 states have passed anti-bullying legislation, with bullying typically being defined as:
Perpetuating bullying or harassing conduct by spreading hurtful or demeaning material even if the material was created by another person (e.g., forwarding offensive e-mails or text messages).  
And another common piece of language states that:
Bullying includes intentional efforts to harm one or more individuals, may be direct or indirect, is not limited to behaviors that cause physical harm, and may be verbal (including oral and written language) or non-verbal. (source: United States Department of Education)
I want to be clear.  I am as "anti-bully" a person as you can find, and worked as hard as I could as a principal to curb oppressive or exclusionary behavior.   That said, I find it frustrating to be directed through legislation to not "tolerate" bullying behavior in schools, considering the children are engulfed in an immersive culture that openly embraces that same behavior from people who are mature enough to know, "He started it," doesn't fly as an excuse from a third grader, let alone adults.
School cannot be the only place that bullying is not tolerated.
As we all know, it's hard enough to get a child to eat broccoli, let alone stop emulating sophisticated behaviors that are meant to manipulate and control others.  I already discussed typical and everyday bully behaviors from the adults in the lives of our students, but how can we explain what we are witnessing in today's politics?  What do you say when your child asked who you voted for, and you and he both know the implications of the answer.
Eventually, a child goes to school and imitates behavior they believe their family supports – and when that same behavior lands him in the principal's office, I consider it a setup for failure.
Let me also clearly state that some of the petulance being demonstrated on the national stage is easily matched by some of the fiascos playing out at local levels across the country, and right here in Arizona.  
As Chris Matthews states in his book about  the powerful relationship Tip O'Neal and Ronald Reagan forged and leveraged for the betterment of the country, in spite of their fierce disagreement on the role of government, "Today, we govern by tantrum."
We are watching our government move from nasty fights on policy, to policy battles based on nasty personal attacks – hold the policy.  Although we have an amazing talent for rationalizing our own behaviors, this one is simple.  Just ask yourself, what behaviors do we value, and how are we modeling our belief in these values?  No excuses.  No rationalization.  No, "He started it."
And, one more thing.  Let's ask our policy-makers to stop making laws governing the behavior of eight year olds, until they can model accordingly.