Deep breath in. The beginning of a school year feels like a fresh morning in the mountains: new energy, new students, new staff members. Everyone is busy, but there is hopefulness. It reminds me of standing on the porch watching birds flutter around peacefully. I don't mind pausing for a few minutes to take it in. I wish the whole school year could feel like this. The rejuvenated feeling in August is nothing like the exhausted, depleted feeling in May.
Each year, school principals lead their staff on a journey from August to May. This job is not for the faint of heart. From what I can tell, being a principal in Arizona requires superhero powers. To add additional pressure, recent studies suggest that school administrators have significant influence on teacher retention and attrition. According to the Fall 2017 Arizona Hope Street Group Teacher Fellows report, "most teachers agreed that school climate influences teacher retention, and they pointed to the role of administrators and school staff in determining school climate and culture" (p. ii). In the 2017 TELL AZ survey results, 30% of teachers reported that school leadership was the most influential teaching condition that affects their willingness to keep teaching at the same school, as shown in the graph below. (In fact, many of these teaching conditions below can be influenced by a school principal.)
---
Teacher Responses to TELL AZ Survey Q10.3

---
---
With an ongoing teacher shortage in Arizona and declining enrollment in teacher preparation programs across the country, we must do all we can to retain teachers. So I started wondering: What are some qualities that teachers are looking for in a supportive administrator? What type of administrator makes teachers want to return every year?
I reached out to teachers through social media and asked some questions: (1) What qualities make you feel supported by an administrator ideally? What are some examples of what that looks like? And (2) What qualities make you feel unsupported by an administrator? What are some specific examples that have happened to you that decreased your morale or sense of safety?
I received responses from about twenty teachers during this social media project. With so many great ideas, I spent time reflecting about how to summarize and share their powerful ideas in a concise style. I decided to use a technique called poetic transcription. I took direct quotes from all the teachers who responded and rearranged them in a rhythmic way to create a free verse poem. I published a first draft of the poem on social media and asked for critical feedback. Teachers provided additional ideas that needed representation and I rearranged the quotes again.
Today, I am proud to introduce this poem: Words from teachers about their ideal leaders. I hope it provides affirmation and guidance for administrators who desperately want the best for their schools, students, and staff. I am so grateful for the work that you do. Journey on. Teachers need your support to stay in this challenging work.
---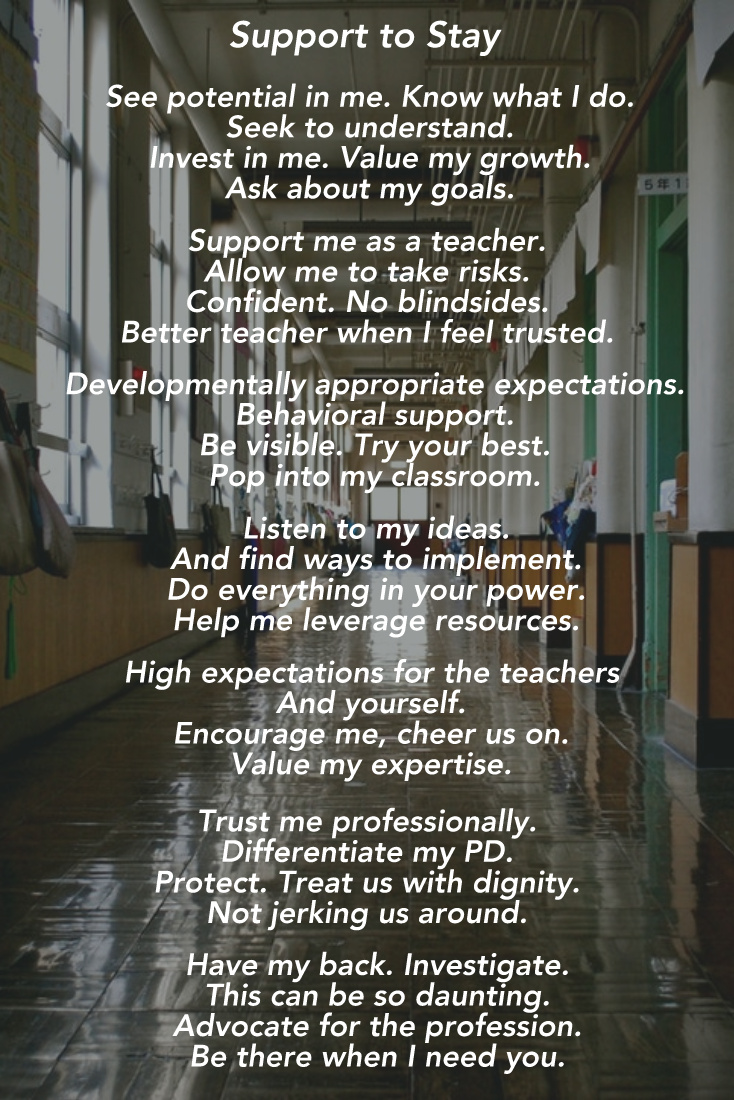 ---
I'm looking forward to your reactions and comments below. If you'd like to read more suggestions for school principals, check out this recent blog from Beth Maloney! You might also enjoy this blog published on Cult of Pedagogy last year. If you'd like to see some more poetic transcription, check out the poems I wrote using participant quotes from my dissertation about Team Leadership in Special Education.
Image credit: https://pixabay.com/en/support-letters-scrabble-help-2355701/