It is part of our mission of the Arizona National Board Certified Teachers Network to raise awareness about the impact of National Board Certified Teachers (NBCTs) on our students, schools, and profession.  Many NBCTs have shared our stories about why National Board Certification matters to us with our colleagues, administration, parents, and school boards for years.
We had a dream from the infant stages of the Network in 2015 – we wanted to tell our legislature about the value of National Board Certification.  We knew we needed to do what we do best – teach!  Our mission for the 2 Weeks of Action initiative was to simply share our stories of impact on our students, our colleagues, our schools, and ourselves.  Our goal was also to begin to build a relationship of trust between an accomplished teacher and a policymaker.
The dream took several years to become a reality, but this March, the idea of 2 Weeks of Action at the capitol became a reality.  We began with recruiting and training our volunteer NBCTs.  Like all good teachers, we got a sense of the level of their comfort and background knowledge, in this case, engaging with policymakers.  In each of our trainings, NBCTs ran the spectrum from never having spoken to a policymaker to experts and experienced advocates.
Since there is comfort in numbers, our goal was to create teams of three NBCTs living and/or working in each legislative district across the state.  We created county-specific literature ("leave behinds") for each legislator with statistics, testimonials, and the names of NBCTs in their district.  We also gave the NBCTs business cards and AZ NBCT Network logo cards to show our professional status and allow for a thank you and follow up in the hopes of building a long-term relationship.
The teachers made appointments at the capitol over their spring breaks (ideally) when the legislature was in session.  This proved to be one of the more difficult tasks.  My group alone sent more than 14 emails and 17 phone calls to lock down our appointments (thank you for your dedication, Anthony Perez!).   Much to our disappointment, even with appointments made, some NBCTs didn't make it into their legislators' offices due to legislators' extended committee meetings and the floor session.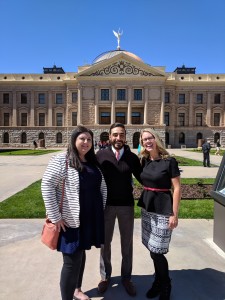 I am thrilled to report sincere interest from many legislators.  Although this was a teaching mission, we had several legislators interested in considering various policy ideas to increase the numbers of accomplished teachers in Arizona.
Many legislators that my team met with wanted to know our "ask."  We were very forthright with telling them we didn't have one!  We truly just wanted to build awareness and share our stories of how certification has influenced us.  However, during our debrief sessions with NBCTs after our legislative appointments, it was clear that the NBCTs found this a useful experience and want to continue next year.
I am also so pleased to share the words of one NBCT who ranked herself as a "scared beginner" at the initial training.  During our debrief, she declared that she was excited to have spoken to three legislators and that the act of sharing her story with policymakers was so much easier and more empowering than she thought it would be.
We heard participants begin to generate some potential future "asks" such as building the statewide pipeline to certification, statewide incentives for NBCTs, statewide incentives for becoming NBCTs, and utilizing NBCTs in leadership roles.
This time, we met legislators at their house (or House, get it?).  A logical next step would be for educators to invite these legislators into our classrooms.  See  https://www.azedfoundation.org/take-legislators for more information and express interest in the annual Take Your Legislator to School initiative.
We ended each training session with this quote from the Rev. Dr. Martin Luther King, Jr., "Our lives begin to end the day we become silent about the things that matter."  National Board Certification matters to our schools, students, and profession.  Let's continue to share with policymakers why it matters.