In the light of COVID-19 concerns, the familiar juxtaposition of professional athletes' salaries to teacher pay takes on a new context.
Why is every public event I can think of cancelled in every community I know, while many districts will be returning to school Monday? 
On social media last night, a friend of mine tried to minimize my concerns about returning to work Monday by quoting the guidelines on social distancing. When a bus driver friend and I pointed out that a 6-foot distance is practically impossible throughout a school day, she responded that she meant that "The six foot distance is for social gatherings." As though the virus is on better behavior under the guidance of a teacher.
One of her other responses was that if kids had to stay at home, needed healthcare workers would not be able to attend their jobs, which would put medical facilities at a disadvantage to be able to provide services. This is not a bad point, but the argument is predicated on the idea that in effect, we are asking teachers to put themselves (and their own families) at risk to take care of kids so that the rest of society can get on with the really important jobs they have in the pandemic. So basically, the argument is that teachers are babysitters so that the healthcare workers can go to work. 
I am sure that there are many teachers out there without family members in high-risk groups who would be willing to help resolve some child care issues should districts close, and probably many more who would help with distributing meals and designing online work or packets of work for students to do during school closures. 
However, when schools remain open, teachers are put in a position of some very difficult decisions. Do I send my kids to school? Do I go to work? If I am actually going to work next week, what on earth am I going to teach? How many students will be there? How can I ensure that students whose parents keep them home have access to the work we are doing?
Why are we asking teachers to take on risks to themselves and their own families, or use their personal leave time to avoid exposure, when others are being allowed to work from home, self-isolate, and take other steps to ensure their safety? 
Am I overreacting, considering that only 9 cases have been confirmed in Arizona? Possibly, but then again, we don't really know the extent of transmission of coronavirus within our communities, because testing has been extremely limited thus far. Only 183 people have been tested in the entire state (as of the publication of this blog).
The CDC has provided guidance to school districts faced with decisions to make regarding the pandemic: 
"Guidance for childcare programs and schools is organized into three categories based on the level of community transmission: 1) when there is no community transmission (preparedness phase), 2) when there is minimal to moderate community transmission, and 3) when there is substantial community transmission."
Here's the rub: When so few coronavirus tests have been administered in our state, which set of guidelines do we follow?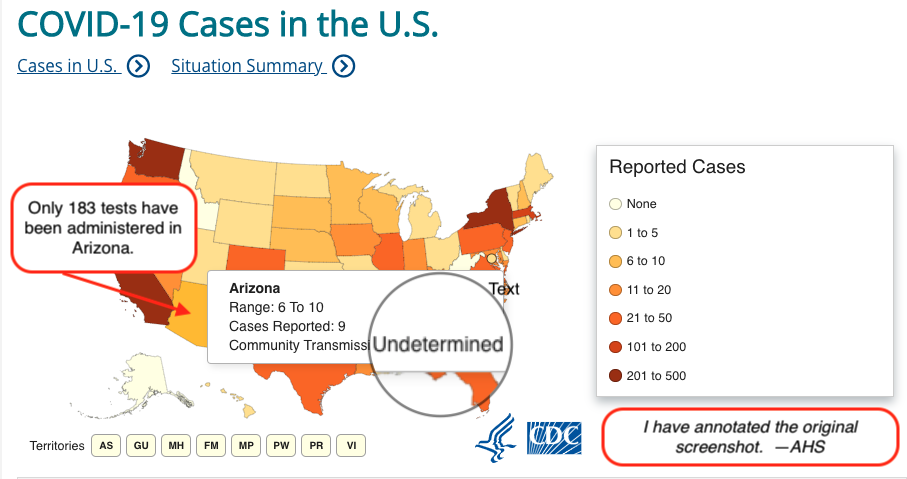 It's understandable why districts don't want to close school. Schools provide food and other daily services to kids that families rely on, not to mention daily education. Our mission is an important one, and that sense of stability when kids are attending school each day is one of those intangibles that can help avoid public panic and anxiety in trying times.
However, teachers and school support staff are not babysitters, and we are not immune to illness. We have families at home that we must consider, and extremely difficult decisions to make about when to decide to keep our own children home. In addition, when neighboring districts close, we may have our own children at home while their schools are out.  To me, it makes sense to give communities a little time to at least have an appropriate assessment of the extent to which the disease has been transmitted, not to mention all the people returning home from Spring Break travel, and incubation time to make sure they are not going to infect me, colleagues, students and my family. 
When each district is making its own call whether to close down schools, teachers and staff are left with a series of stressful dilemmas. This is where broader public leadership plays a crucial role.  I don't envy our leaders their dilemmas either, but in making their decisions, they need to consider the stories from schools.